The White House has directed the Army Corps of Engineers to find money and its own budget that could be used to fund the president's desired border wall under a national emergency declaration, multiple sources familiar with the matter told ABC News.
The White House has specifically asked the Army Corps of Engineers to examine what funds could be redirected to the border wall from a $13.9 billion February 2018 emergency supplemental that was designed to fund more than 50 disaster relief projects, including in California, Florida, Texas, and Puerto Rico, among other states, according to a congressional aide with knowledge of the matter.
An official of the U.S said the money could be used to build as much as 315 miles of border wall under the direction of the Army Corps of Engineers.
The White House did not immediately respond to request for comment.
President Donald Trump made a tour to a portion of the southern border and visited with border patrol agents and local leaders in Texas on Thursday as he continued to make his case for a wall along the southern border to stop illegal immigration.
His trip came on the Day 20 of a partial government shutdown triggered by the president's demand that Congress pay $5.7 billion for a border wall, which Democrats refuse to do.
During a discussion at the border patrol station in McAllen, the president again contended – falsely – that he never said Mexico was going to provide a direct payment for a border wall and attempted to gloss over his past comments to the contrary by arguing he simply intended for the wall to be paid for through the revised NAFTA agreement.
"When I say Mexico is going to pay for the wall, that's what I said, I didn't say they are going to write me a check," Trump said. "I didn't mean please write me a check, I mean very simply, they are paying for it in the trade deal."
The president again spoke against Democrats, claiming falsely that "Democrats will not fund border security plain and simple" and said their position of "no barrier, no wall is indefensible."
When asked how long he thought the shutdown would continue, the president couldn't offer a prediction but continued to speak of the possibility that he may declare a national emergency as a way to circumvent Congress.
As he left Thursday morning to head to the border, Trump said he "probably … I would almost say definitely" declare a national emergency to get funding for a border wall if he can't reach a deal with congressional Democrats. "I would say 100 percent," the president continued. "I don't want to say 100 percent because maybe something else comes up."
While the president continues to say he'd rather make a deal with Congress, he again lashed out at Democrats over the current impasse, denied that he pounded on the Situation Room table and said he didn't "rant or rave" at the latest round of White House talks Wednesday before walking out. "I didn't raise my voice. That was a lie," Trump said.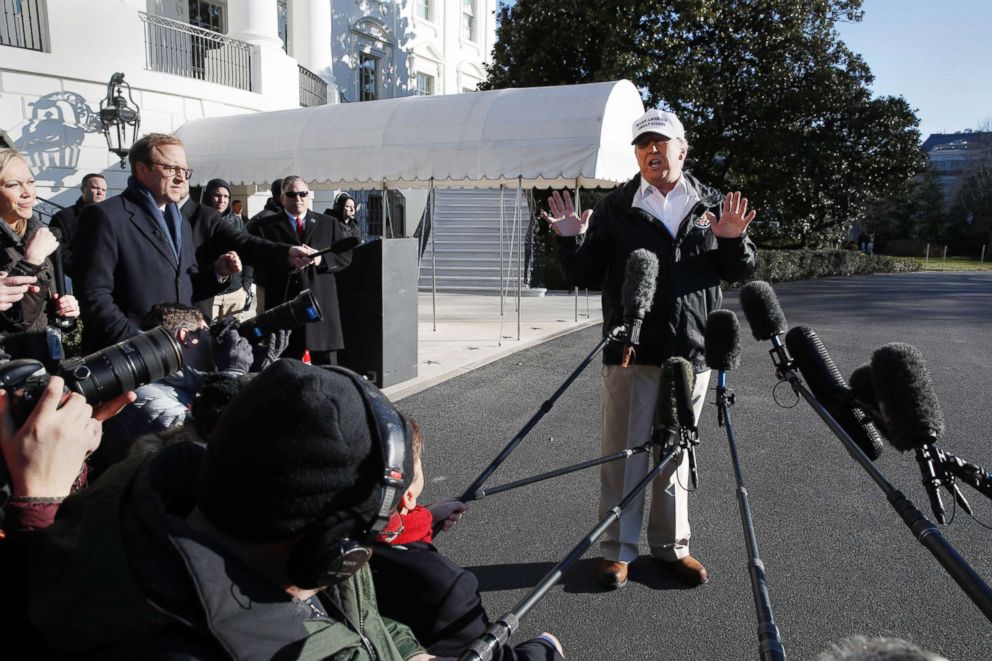 The article was originally published on abc news